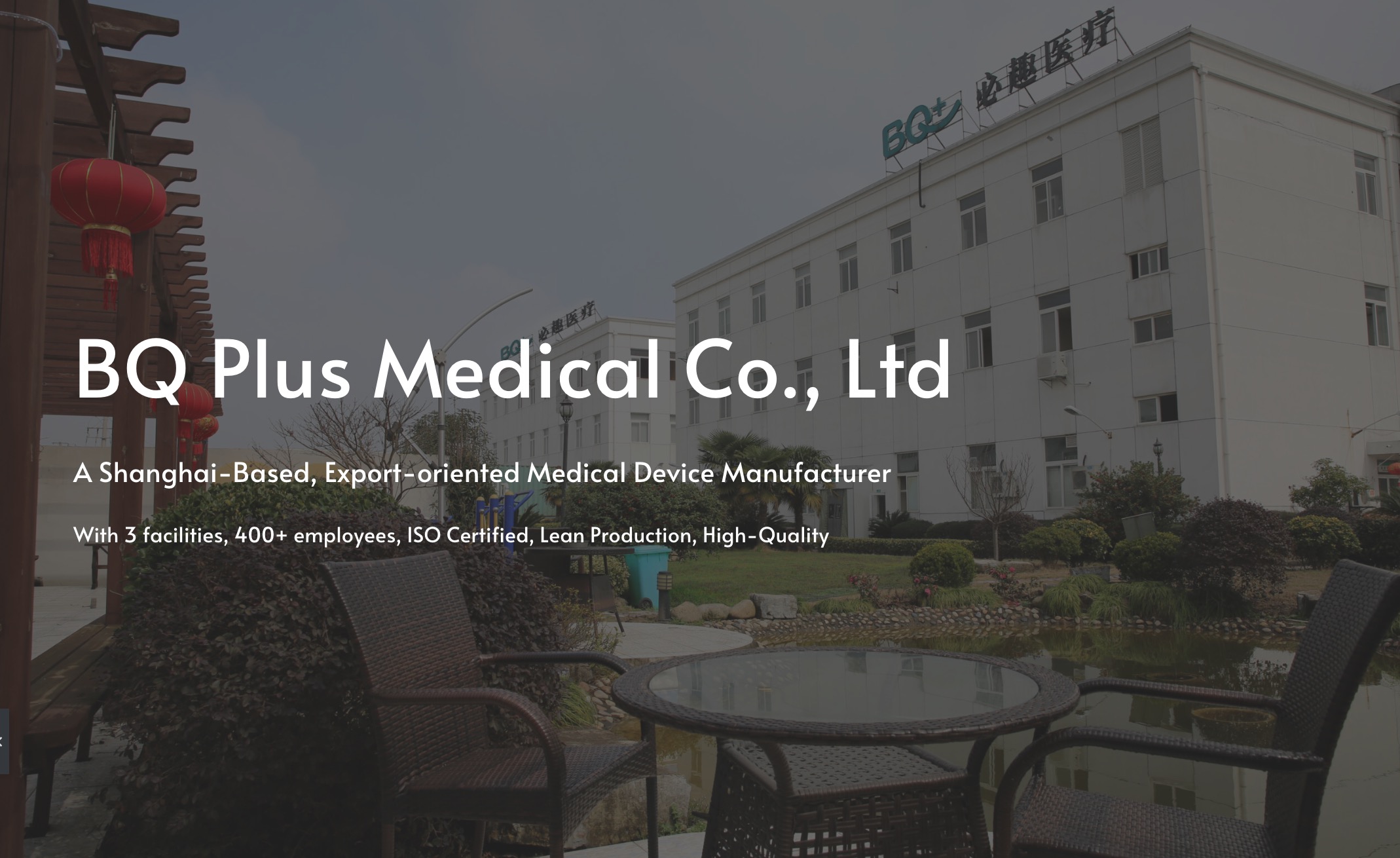 BQ+ Medical is a manufacturer dedicated in Infusion therapy products. For you, BQ+ customize sets of Infusion, Transfusion, Oncology & Enteral feeding with in-house Components molding, Assembling and EO Sterilization. BQ+ Medical not only produce components for manufacturers all over the world, but also provide private label manufacturing for leading brand distributors in different countries. Make friends with industrial peers and supply quality goods to the world is our goal.

BQ+ Medical has 3 facilities, 25000+ Sqm production facility, including 4500 sqm Class 10 Clean Room, 204 Cbm EO sterilization capacity. BQ+ Medical is FDA registered, ISO13485 certified, CFDA Class II production licensed manufacturer. BQ+ Medical provide EO sterilization service, which is also FDA registered, ISO11135 certified.

BQ+ Medical product range covers infusion & Blood transfusion sets, Enteral feeding bags & sets, Anesthesia masks, Aesthetic syringe and connectors, pharmacy compounding preparation devices and also intervention accessories. BQ+ Products are CE certified and 510K Cleared.

80% BQ+ Medical customers are from abroad, product quality, documentation & traceability, and on time delivery are the 3 key concerns for medical supply companies. BQ+ Medical invests huge resource on quality system. Former TUV Sud Auditor, Mr. Jack Yang acts as Management Representative for BQ+.

BQ+ Medical hires TOC expert coaching our team to improve work flow to agile manufacturing.

BQ+ Medical is also working MES system to achieve paperless traceability. Headquarter in Shanghai, makes it convenient for overseas customers to visit BQ+, high qualified team and strong supply chain promises excellent quality and sufficient productivity.

Once you get in touch with BQ+ team, you will be impressed by the sincerity, Integrity and diligent of BQ+ people.

Welcome to BQ+ Medical, please feel free to contact us anytime!
Our mission

For trust, we deliver.

To promote the well-being of employees both physically and mentally, deliver safe and reliable medical consumables on time to help physicians to reduce patient suffering and lower healthcare costs, and provide high-quality sterilization services to ensure safe use of medical devices.

Our vision

To be a benchmark in China's medical consumables market, gain recognition from global peers for "Made in China", and provide Chinese patients with world-class products.

Our values

Responsibility Retrospective Caring.

History

BQ+ Medical was founded in 2015.  BQ+ is a recombination of Medical business from former Nelson Techno Medical Co., Ltd.

Nelson Techno Medical Co.,Ltd was founded in 2005 by Ms. Ronia Cao.  Former Nelson Techno Medical Co., Ltd was active in 2 business lines, one is IV components for human medical use, and the other is artificial Insemination devices for animal use.

In 2011, Nelson Techno Medical was sold to IMV Technologies group, who was a leading company in animal reproduction business.

In 2015, the IV components business was split from Nelson Techno Medical, and merged with Yuxing Medical.  The integrated business was named as BQ+ Medical Co., Ltd.  IMV Technologies owned 61% share of BQ+ Medical Co., Ltd.

In 2017, BQ+ Medical suffered a big crisis of disagreement of shareholders, and it was on the verge of bankruptcy by August 2017.  IMV Technologies transferred its share to Ms. Ronia Cao at price of 1RMB.

On Sept. 1st, 2017, BQ+ team announced its independence and determined to restart everything from ruins.   Ms. Ronia Cao injected big amount of cash into BQ+ and worked day and night with BQ+ team for 2 years, and saved BQ+ Medical from bankruptcy to sustainable development.

In 2019, BQ Plus Medical was rated as National High-Tech Enterprise.

In2021, BQ Plus Medical was rated as A Specialized New Enterprise in Shanghai, Songjiang District Enterprise Technology Center, Shanghai Expert Academician Workstation

In Oct. 2021, BQ Plus Medical acquired KZ Medical, a 100+ employees IV set assembly plant

In Mar. 2022, BQ Plus Medical set up its 2nd EO sterilization Center in Suzhou.

The driving force of BQ+ revival was the words written on BQ+ wall, The Value of an enterprise is the happiness of employees and gratitude of customers.  Ms. Ronia Cao is grateful for the trust of BQ+ team and BQ+ team appreciate the persistent trust of customers from all over the worlds.   BQ+ will always deliver her faithful love, to employees, to customers and to the community.

Team

Mr. Jack Yang

BQ+ Vice GM & Management Representative

11-year Senior Auditor for TUV Sud

Sales Team

Welcome to

contact with us

Ronia Cao Int'l Biz Director

Ronia@bq-medical.com

Global Market

Vincent Yuan Sales Manager

vincent@bq-medical.com

Australia.Middle East market

Jasmine Zhang Sales Team

info@bq-medical.com

European,Korean Market

Charles Zhou Sales Manager

charles@bq-medical.com

Asian,North American market

Jenny liu Sales Team

Jenny@bq-medical.com

South American market

BQ teams at work

Quality Control

Research & Development

Production management

EO Sterilization

Community

BQ+ Medical is located in Songjiang District, South East of Shanghai. Songjiang is called as Root of Shanghai. she formerly known as Huating for Songjiang County. She was estalished in 751, Tang Dynastry. It was the political,economic and cultural center of Shanghai before Shanghai was opened as a port to foreign countries and has been Songjiang1 District since 1998. There was such a word said: "The Suzhou country and Songjiang country have more than a half tax in come collected in China in the history.

And now songjiang is well developed. She has two parts, the modern part and the classica part:
Modern part includes: Songjiang University Town; Happy Valley, Sheshn National Tourist Resort, and Thames Town.
The Classical Part includes: Square Pagoda, Zuibai Pond Garden, Guangfulin Relics Park.

BQ+ team loves this community, we get involved in local sports and culture activities very often. In 2019 Dragon Boat Festival, we attend 11th dragon boat regatta in Huating lake. At this match,total have 33 teams and more than 10 thousands of audience. Every player of BQ+ was very excited as it was the first time we attend the dragon boat regatta.Fortunately,our score was before the top 10. In this match, people can see a team that work in unity and help one another.And we believe BQ will be better at the next match.

Dress up the Earth

BQ+ team also help the community to keep clean and nice. BQ has a "Dress up the Eeath" voluntary team. Every week, the voluntaries walk out to the street to collect garbages.

Nursing volunteer

BQ+ voluntaries also come to local nursing center to visit old people there, talk with them and do performance for them.

Charity activities

BQ+ sponsors a charity activity, raising fund to train 10,000 countryside doctors, so that they could treat local farmers properly.
Tel:

86-021-57743953
Address:

No.18,Cheye Road,Songjiang District,Shanghai 201611 China.